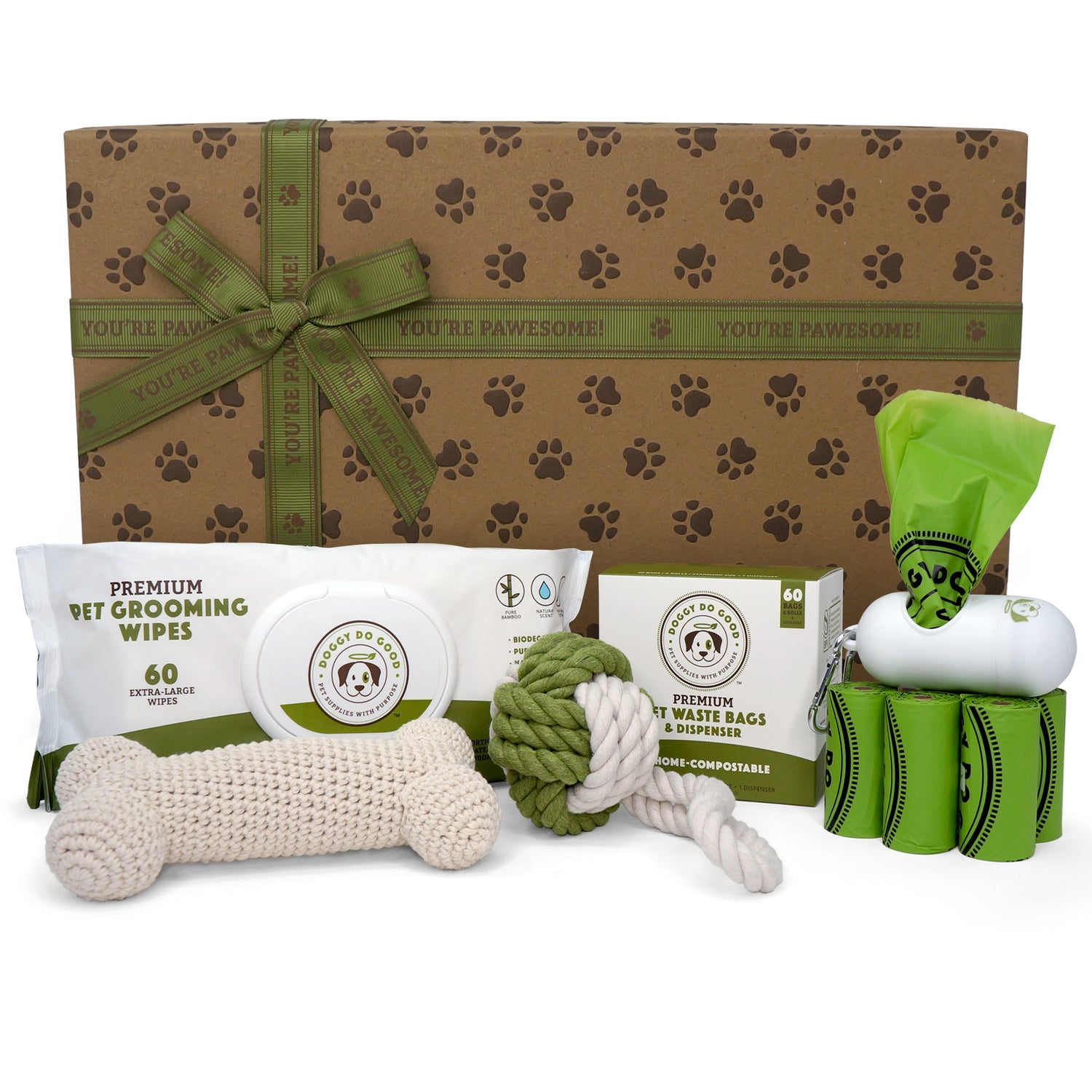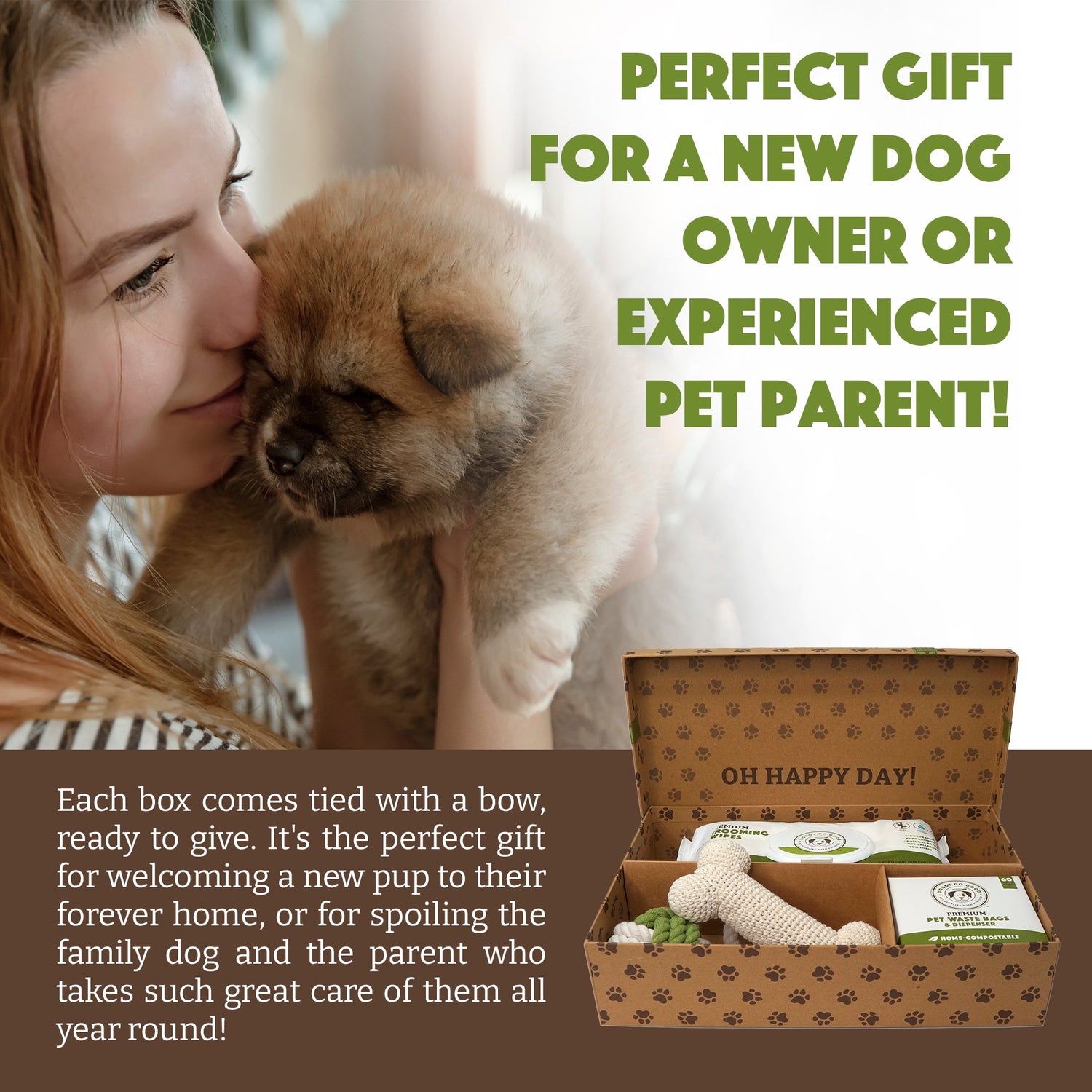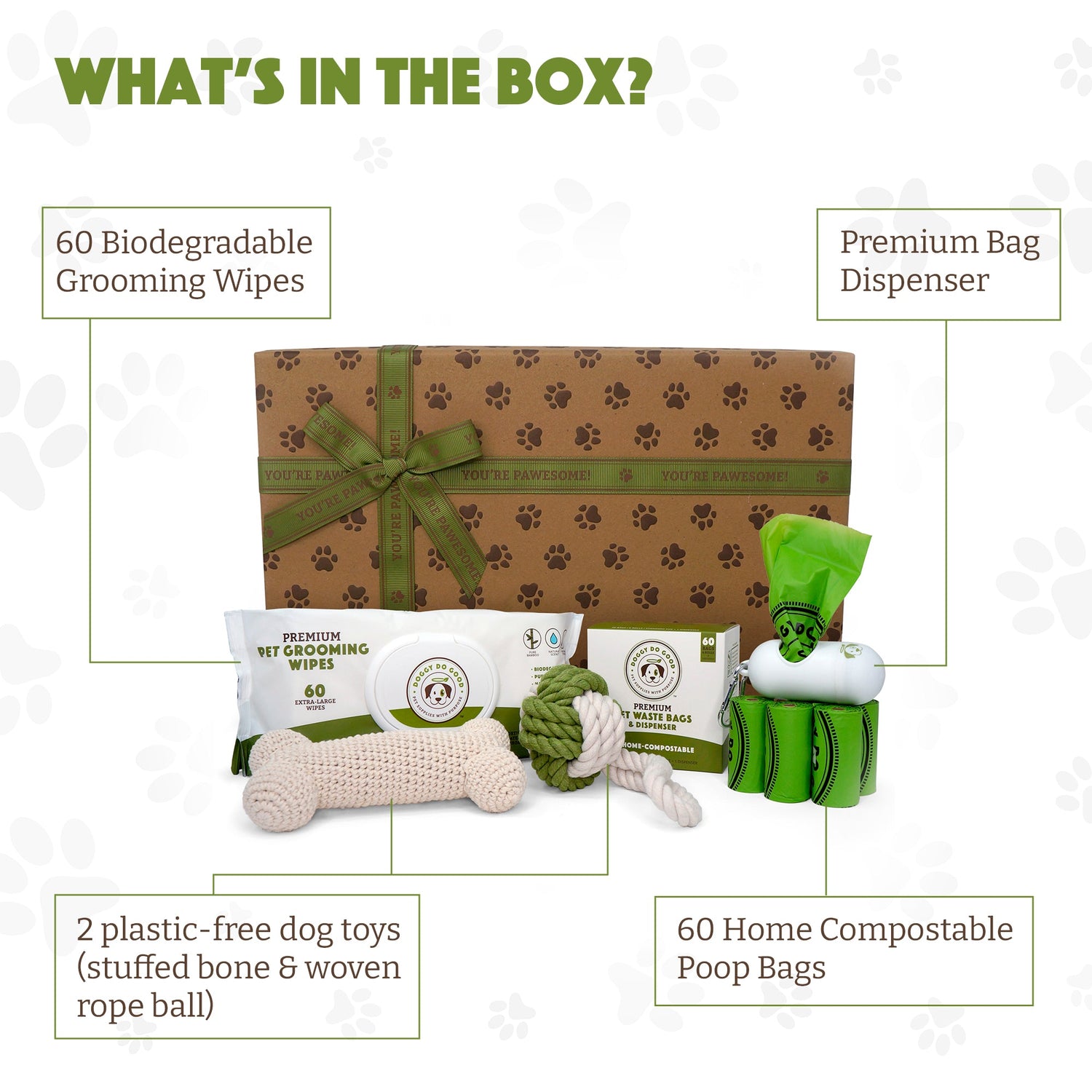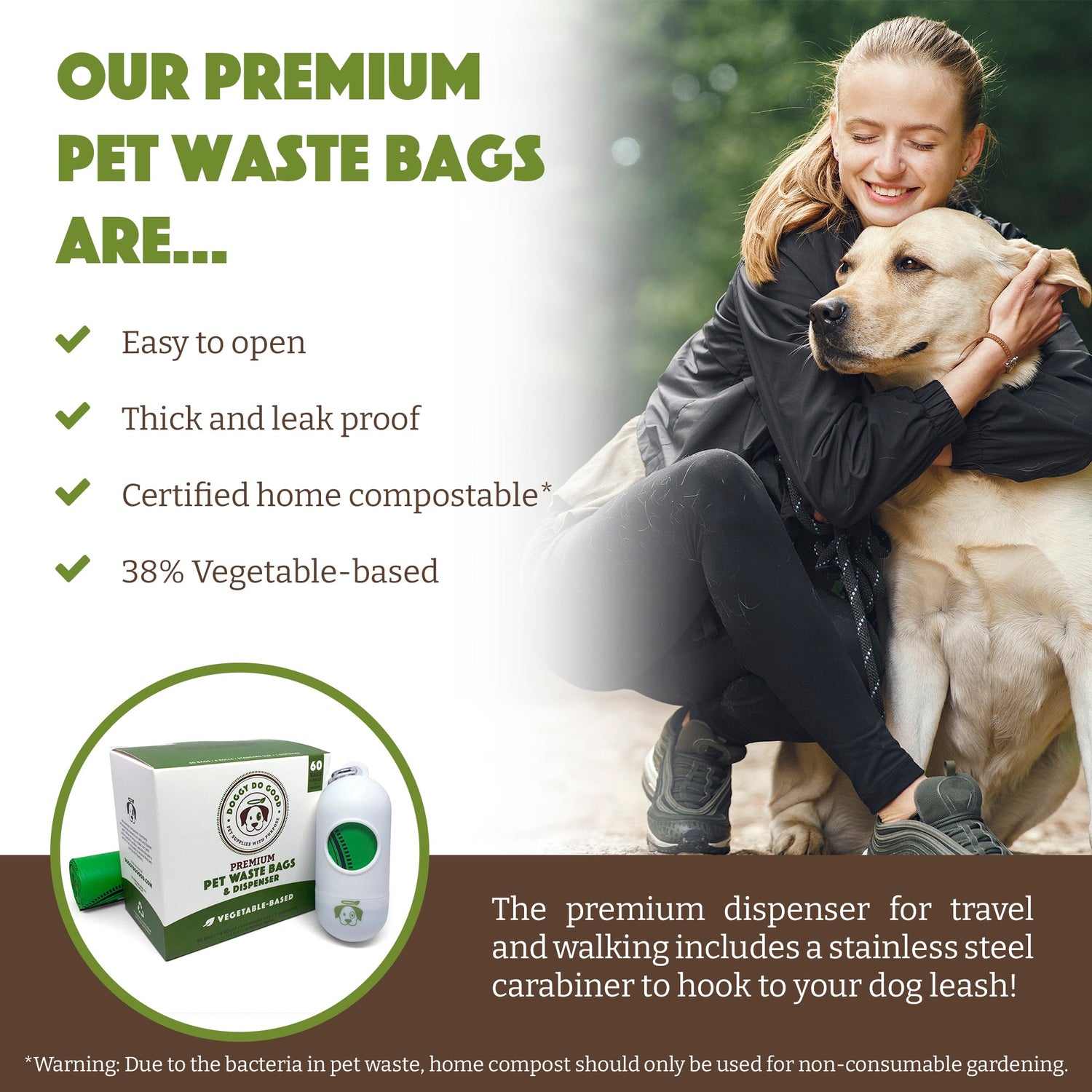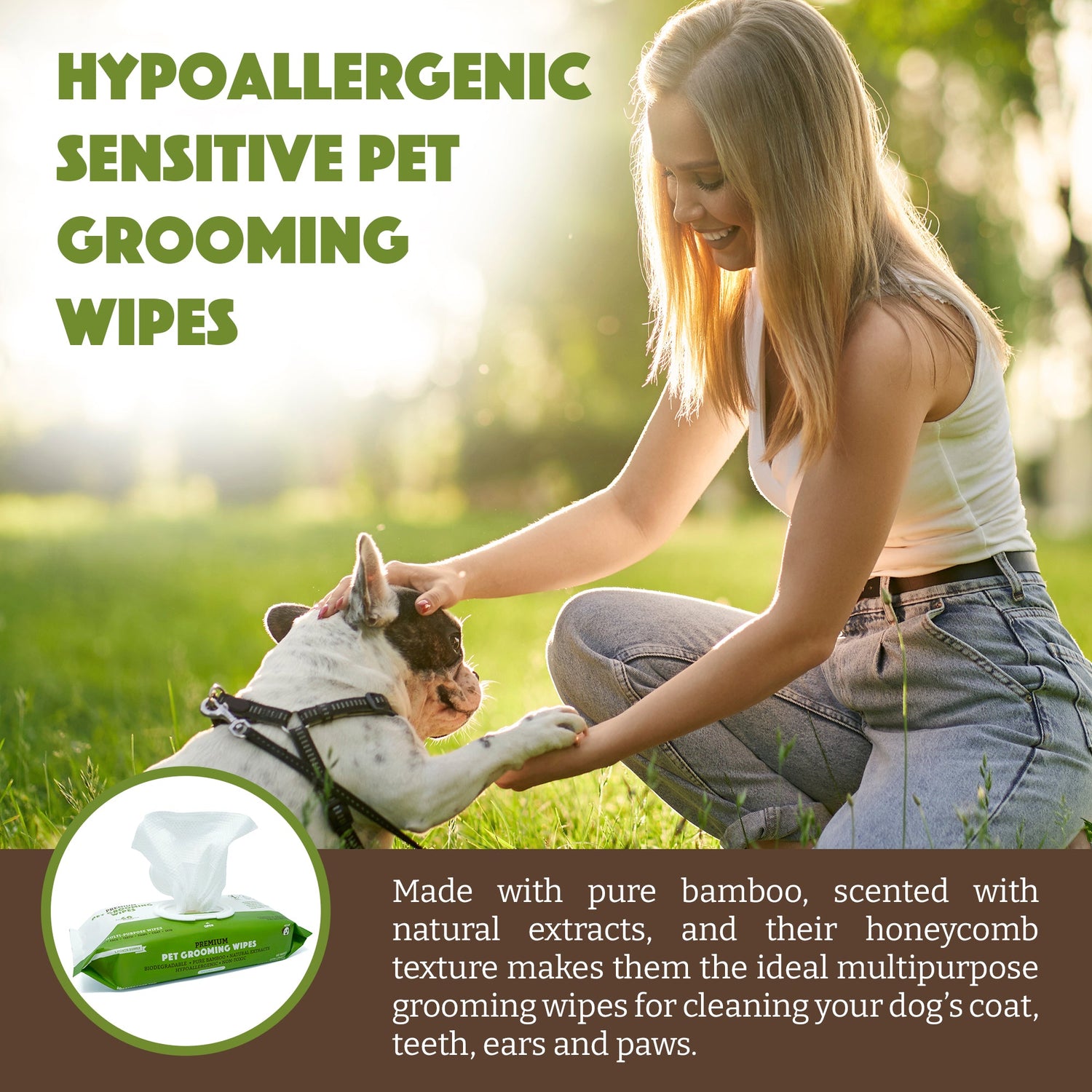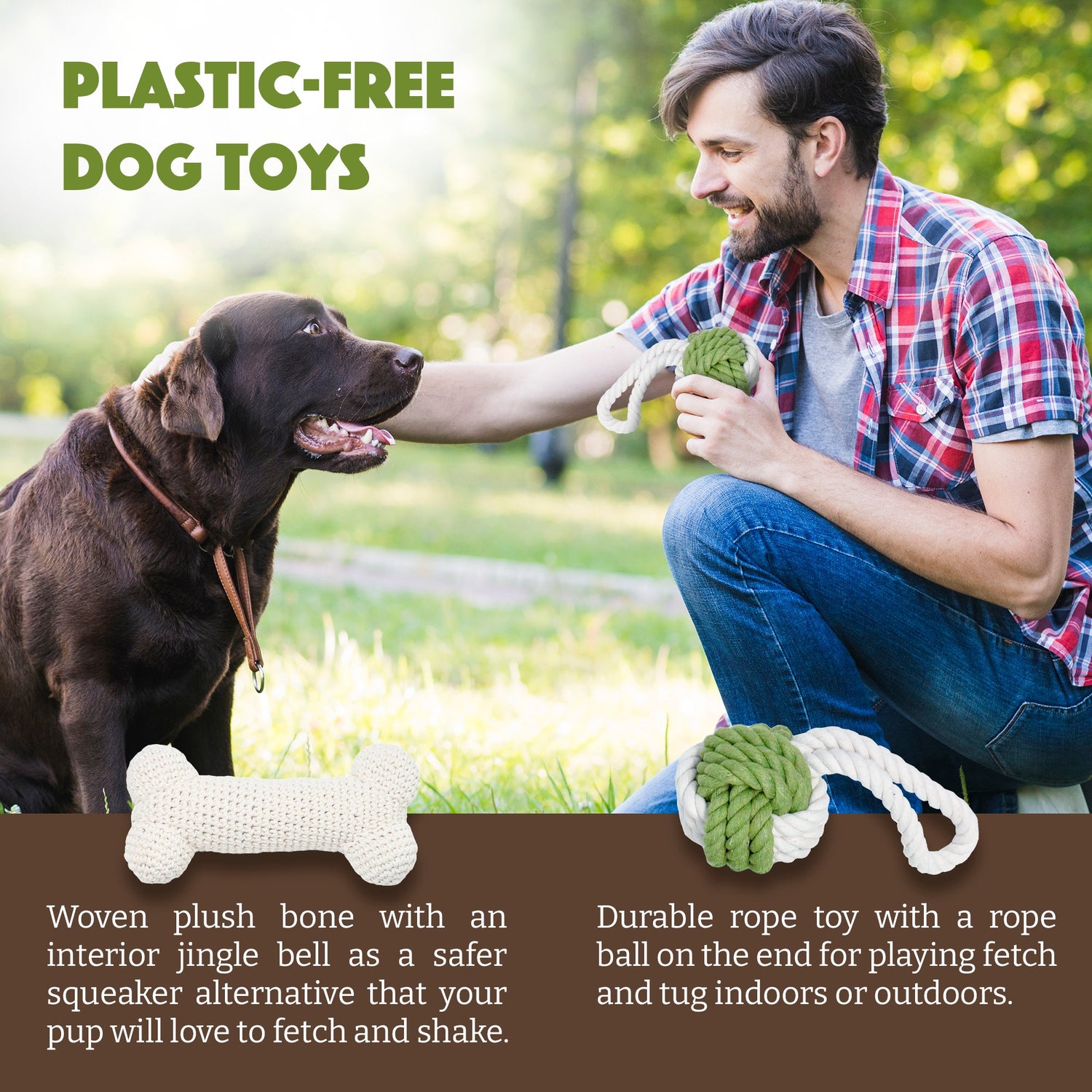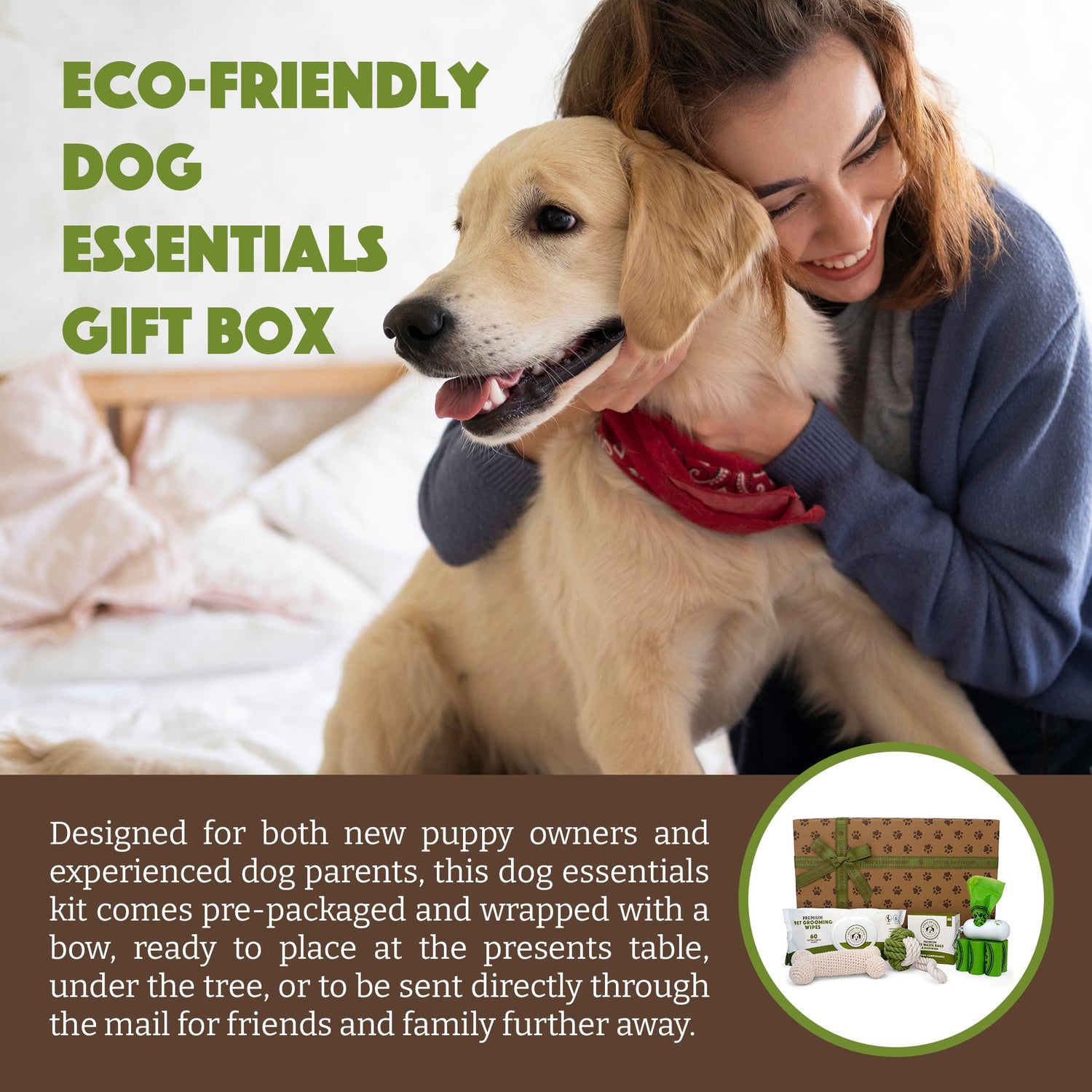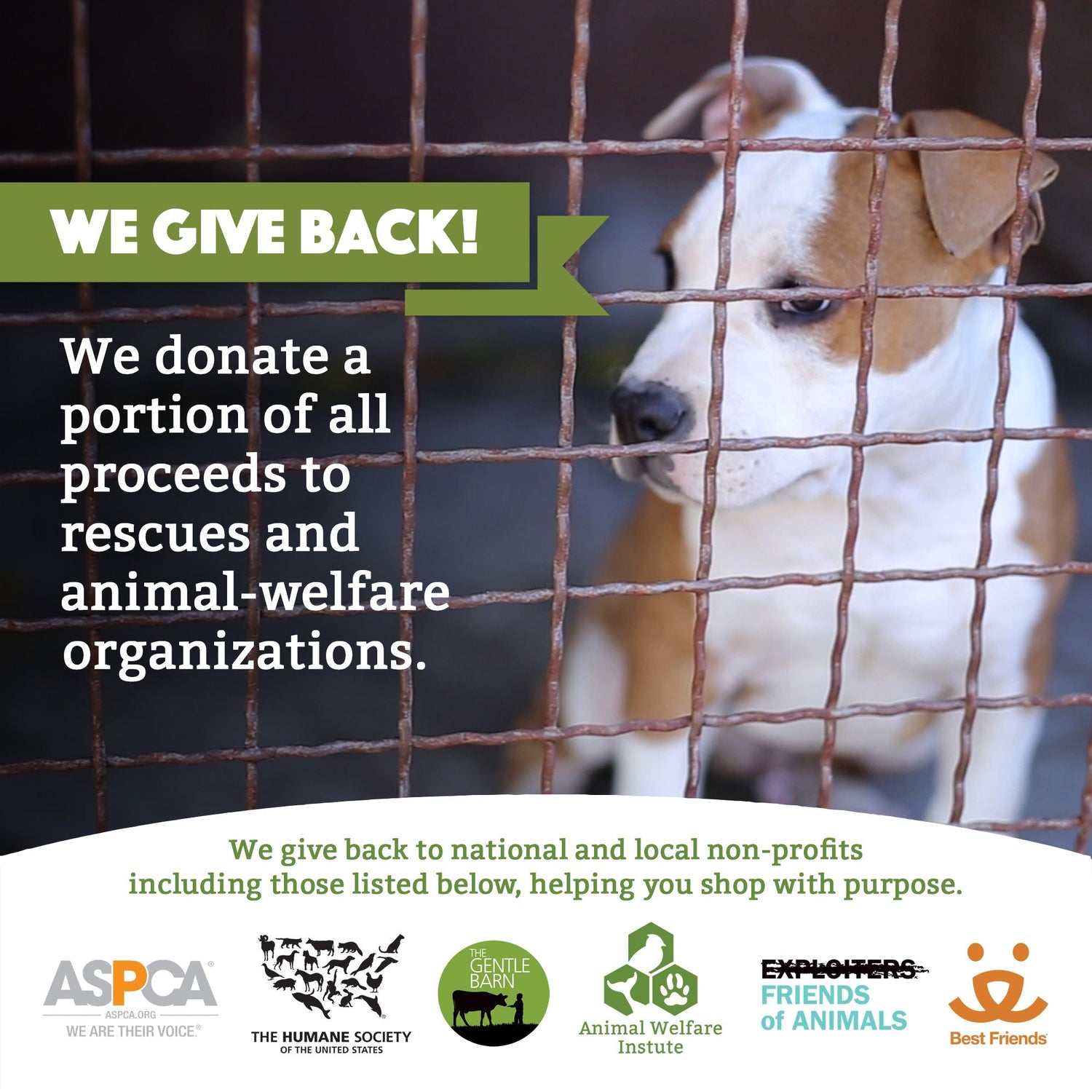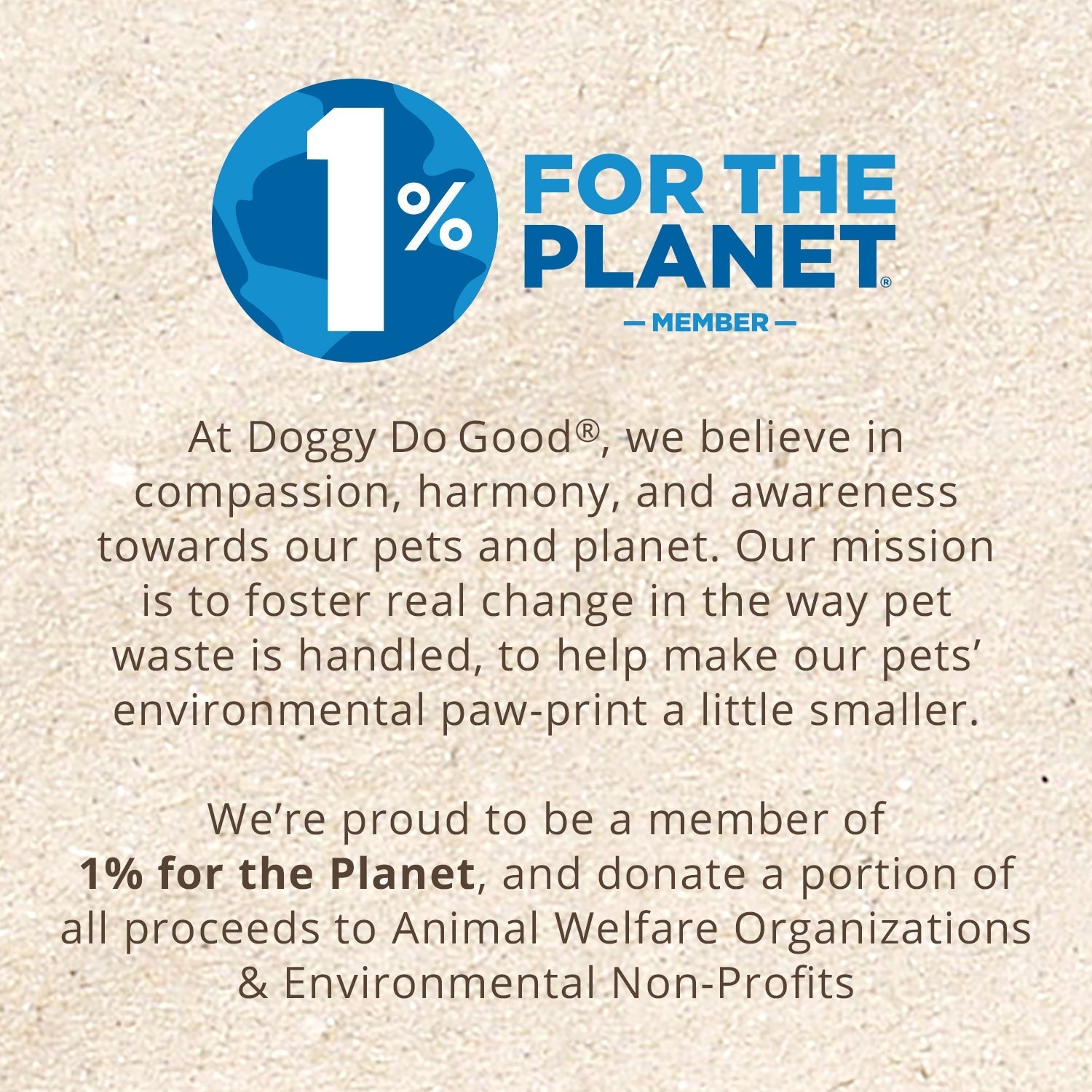 Eco-Friendly Dog Essentials Gift Box
Perfect Gift or Starter Kit!
Gift Box Includes: 2 plastic-free dog toys (stuffed bone & woven rope ball), 60 Compostable Poop Bags, Premium Bag Dispenser and 60 Biodegradable Grooming Wipes; each box comes tied with a bow, ready to give!

Perfect Gift for a New Dog Owner or Experienced Pet Parent - Great for Christmas, Dog Birthdays, Welcoming a New Puppy or as a Forever Home Adoption Gift!

Premium Pet Waste Bags: These easy to open, thick and leak proof dog poop bags are Certified Home Compostable and 38% vegetable-based, with a premium dispenser for travel and walking; the dispenser includes a stainless steel carabiner to hook to your dog leash

Hypoallergenic Dog Grooming Wipes: These sensitive pet grooming wipes are made with pure bamboo, scented with natural extracts, and their honeycomb texture makes them the ideal multipurpose grooming wipes for cleaning your dog's coat, teeth, ears and paws

Crocheted Bone: Plastic-Free Dog Toy - Handmade of 100% Organic Knitting Cotton, is Eco-Friendly and Non-Toxic, and jingles with an interior bell as a safe alternative to the usual plastic squeaker

Cotton Woven Rope with Ball: All Natural & Durable - Made from 100% Azo-Free Dyes and Recycled Yarn, Perfect for Chewing, Tossing or Tugging. Non-Toxic & Safe - Works as a Dental Hygiene Tool

Charitable Product - We are a member of 1% for the Planet, and donate a portion of our proceeds to Animal Welfare Organizations & Environmental Non-Profits
WARNING: Due to bacteria in pet waste, home composting should only be used for non-consumable gardening. Learn more about Home Composting with Doggy Do Good® here.
Order now and receive your order between and .
Eco-Friendly Dog Essentials Gift Box: Designed for both new puppy owners and experienced dog moms, this dog essentials kit comes pre-packaged and wrapped with a bow, ready to place at the presents table, under the tree, or to be sent directly through the mail for friends and family further away.
This paw-print clad gift box comes complete with two knitted dog toys. The plush, stuffed dog toy is in the shape of a bone and includes an interior jingle bell as a squeaky toy alternative to keep pets safe from harmful plastic, ideal for aggressive chewers. The rope toy includes a woven rope ball at the end, great for playing fetch and tug. Both toys are made for puppies and dogs of all ages and sizes, including small, medium, and large dogs.
After enjoying the rope and stuffed dog toy, the dog owner you've gifted this box to will love grabbing one of the premium, nontoxic pet grooming wipes included in the set. These wipes are extra large, made with hypoallergenic, pure bamboo and scented with natural extracts. They'll love that these multi-purpose dog wipes can be used to brush their dog's teeth, clean their paws, detangle their fur or hair, and wipe their ears.
It wouldn't be a complete set without our thick and durable premium pet waste bags, constructed with only bio-based components. They break down in your properly managed home compost, making them a great alternative to regular plastic poop bags. Just remember that there is yucky stuff in dog waste that isn't approved for your veggie soil, so only use these poop bags as part of your non-consumable gardening compost routine. Not only are these bags Earth friendly, we've taken every step to ensure all of their packaging is too: the cores and boxes are made from fully recyclable materials.
At Doggy Do Good we're committed to helping pets and the planet, so we're a member of important organizations like 1% For The Planet and we give back to animal welfare organizations and rescues. Together, we can do something good.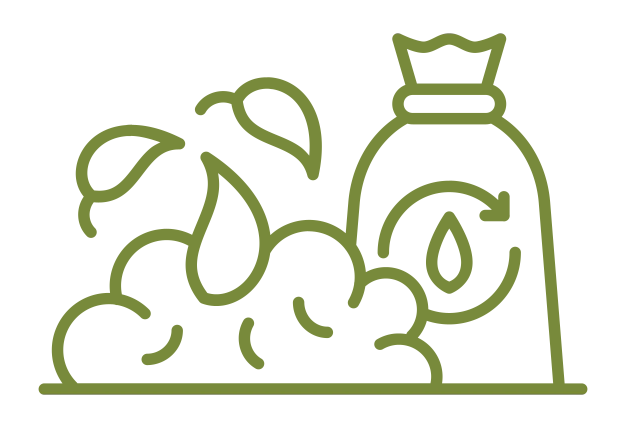 Certified HOME
Compostable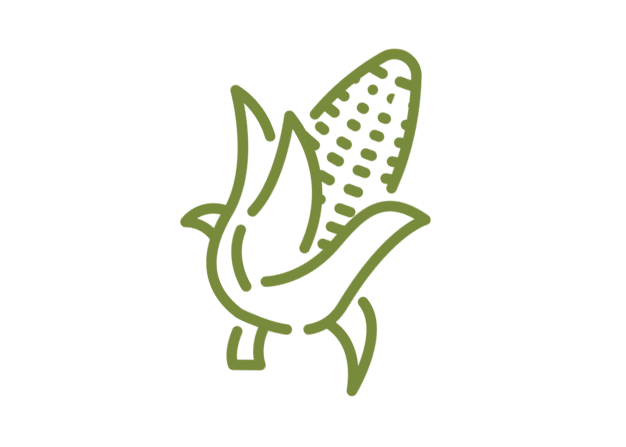 38% Vegetable
Based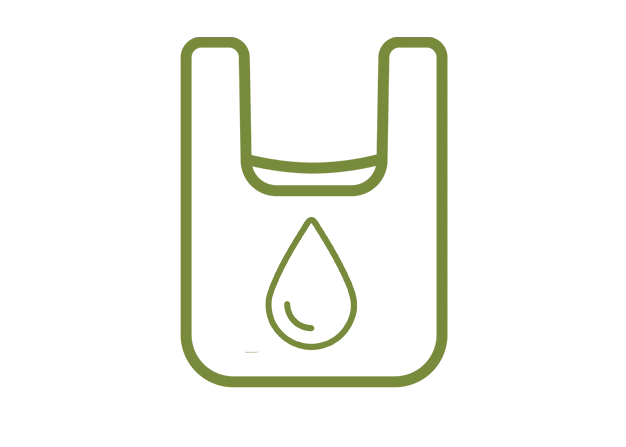 Extra Thick and
Leakproof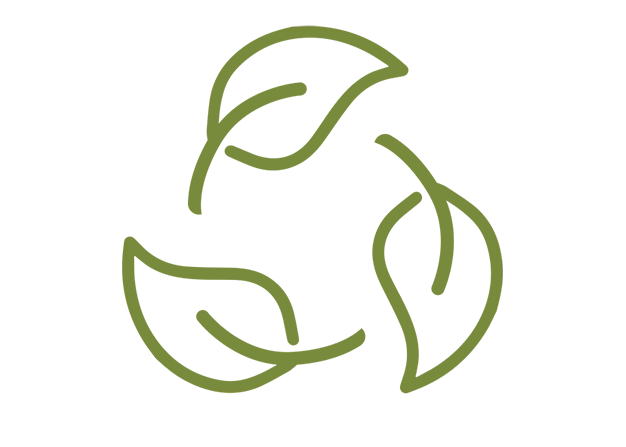 Packaging is 100%
Recyclable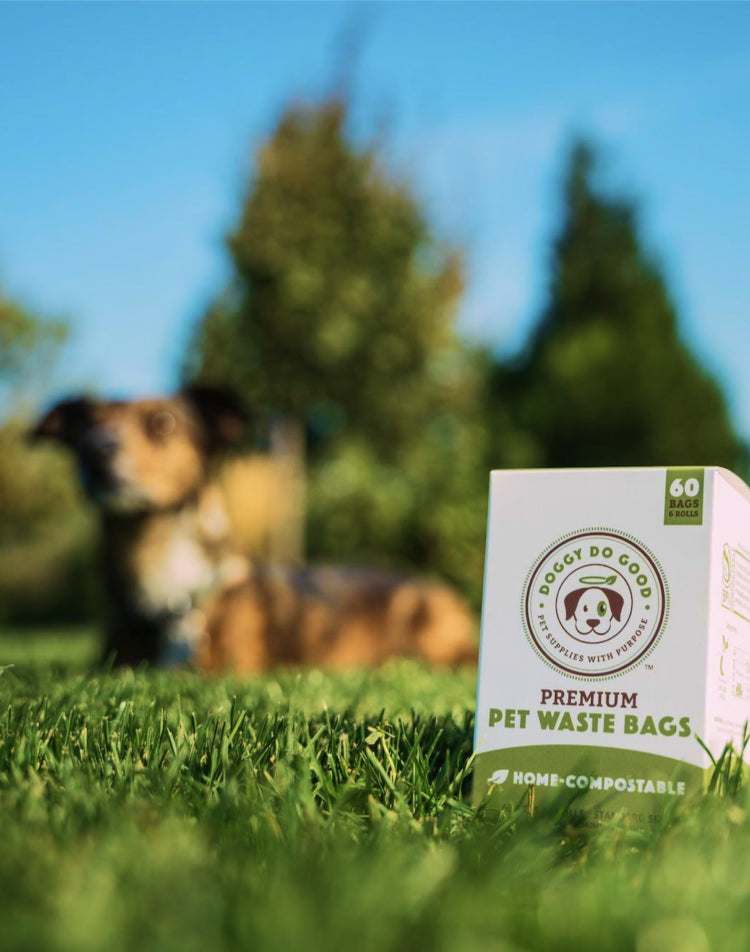 Together, We Can Do Something Good
Pets
Our love of pets is what started the mission of Doggy Do Good! We are proud to donate a portion of our proceeds to animal rescues and welfare organizations with the shared goal of creating a safer, happier world for our furry companions.
People
A more sustainable and waste-compostable future isn't possible without passionate people. Doggy Do Good is a proud member of 1% for the Planet, a group of organizations that pledge a minimum of 1% of annual sales to environmental causes.
Planet
It was time to think outside the box (or bag?) when it came to pet waste bags. Our home-compostable bags and waste will break down into a material that can be used as a part of the soil in non-consumable gardening at your home, making them safer for the planet.
EXTRA THICK & STRONG
33% THICKER than other brands, our bags will keep your "paws" safe from touching your dog's "business" - all while locking odors inside.
EASY TO OPEN & SEPARATE
Our powdery soft bags are so easy to open, you can do it with one hand - with gloves on. No more licking your fingers while doing the grossest job a responsible paw-rent has to do.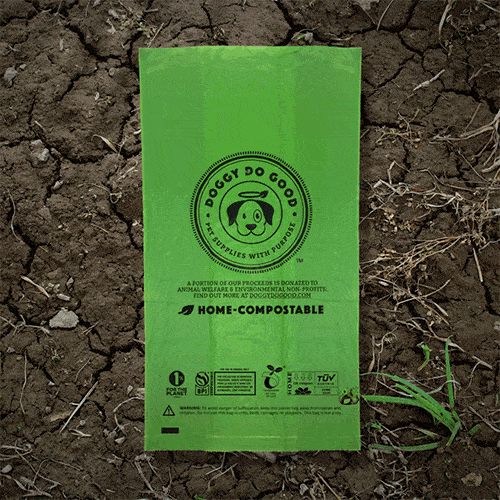 GUARANTEED LEAK PROOF
Enjoy your walks with your best friend, worry free - and mess free. No leaking, breaking or tearing - GUARANTEED.
EARTH FRIENDLY (NOT EARTH RATED)
No GREENWASHING here. Our poop bags ARE actually good for the planet and polyethylene-free. They're Certified Home Compostable, made in part from cornstarch and other bio-based components.
Thousands of Happy Customers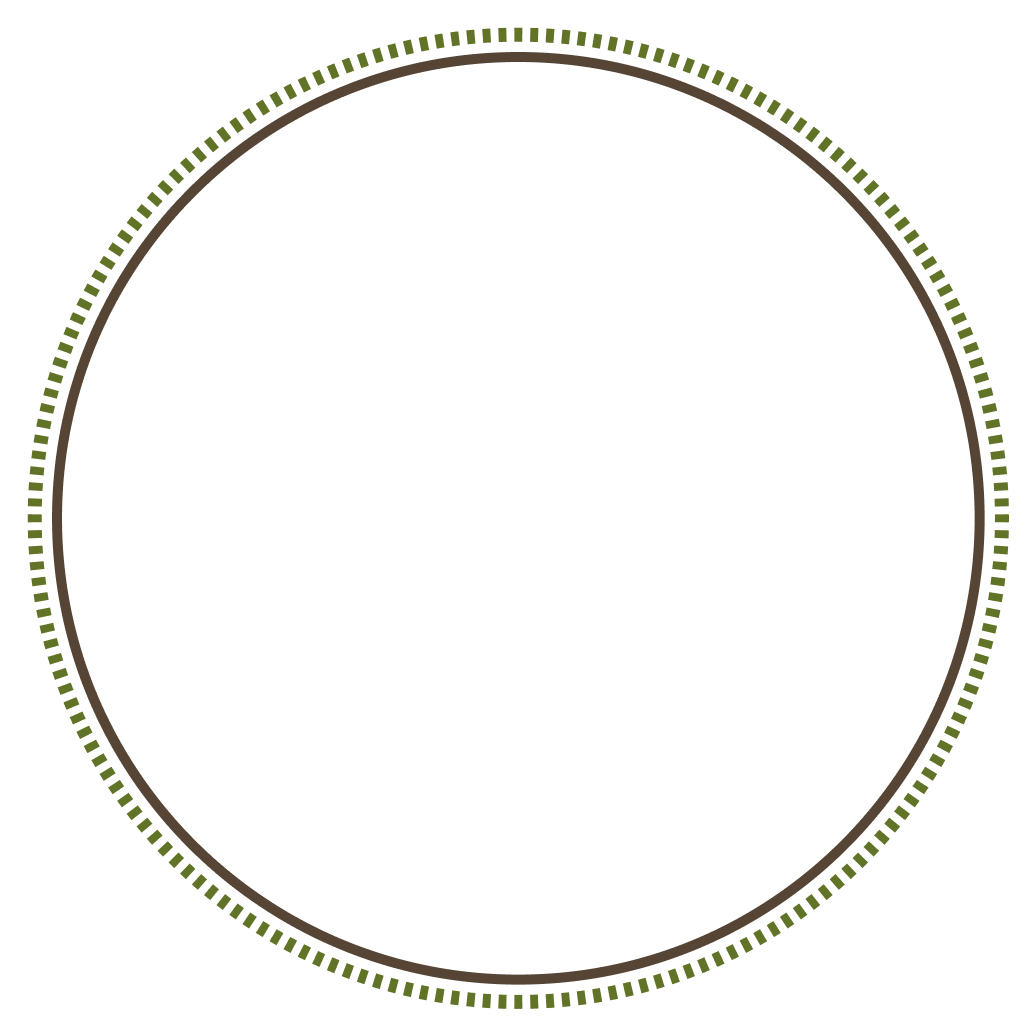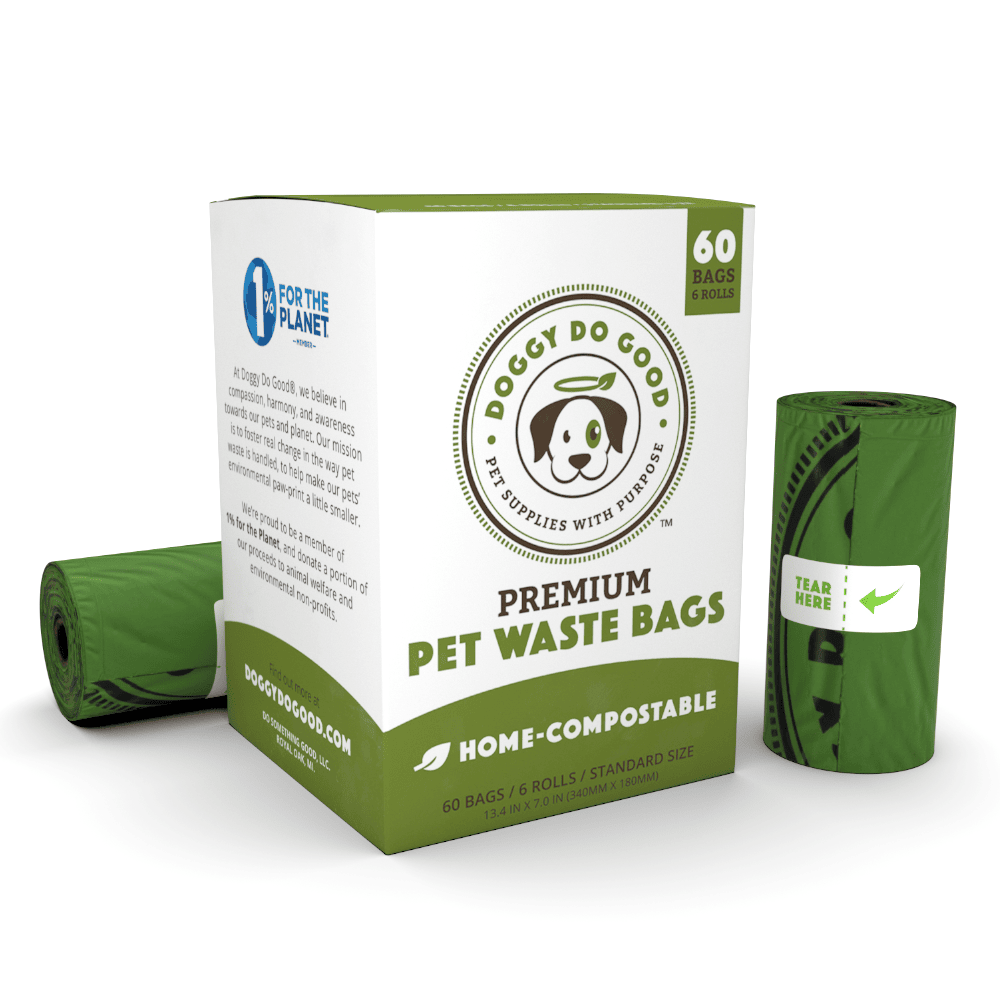 Thousands of Happy Customers
"I also have the handle ones and they're both great. There's no smell from the bags they feel silky and they're very sturdy, and large easy to pick up Labrador poop with no issues. Highly recommend."